This post was written by Amanda Wessel '20, reflecting on her team's spring project, the strategies they used, and the potentially powerful implications of this work on Writing Center pedagogy.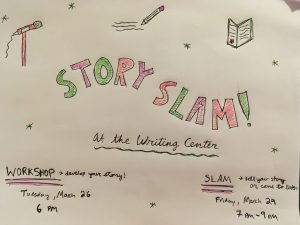 A few weeks ago we hosted the Writing Center's first ever The Moth–style Story Slam. With this event, we hoped to bring new people into our Writing Center, provide a activity through which to practice public speaking skills, and open up the space to new types of discourse that celebrate identity and personal experience toward a more social model of academia.
Dorian Alexis '21 and I decided not to narrow the focus of the storytelling to a specific theme and instead opened up the possibilities by generating a pretty long list of prompts to help people get thinking about times in their lives that they could tell as stories. Five people shared stories ranging widely in theme. I broke the ice by sharing a story about an unexpected and spooky adventure I encountered while leading a canoeing trip with 14 year olds. The following story tellers described overcoming a challenge in a moment of chaos, a surprising moment of hope and coincidence while studying abroad, and the intersection of different forms of spirituality as they related to remembering a late family member.
In between each story teller, other slam attendees were able to participate by drawing a slip of paper with a prompt from a box and responding to it with 2-4 sentence long written anecdotes about that theme or situation. We borrowed this idea from Eric Thomas's storytelling event that happened earlier in the semester and I think it was a big success. As the emcee, I couldn't help but laugh as I read out each anonymous story. These mini stories made for fun transitions and allowed people to participate even if they weren't ready to stand up and tell a story themselves.
Dorian and I prepared for this event by attending a workshop on storytelling at Haverford hosted by storytellers Nimisha Ladva of Haverford's Shapiro Speaking Initiative and Eric Thomas of The Moth. Dorian then attended a Story Slam hosted by Thomas at Bryn Mawr. We designed our own storytelling workshop based on what we learned from these events. Turn out was minimal but we used the time to listen to some short stories from The Moth, discuss their storytelling strategies, and begin developing our own stories.
The week after this event we (the WC staff) we read and discussed Laura Greenfield and Karen Rowan's book Writing Centers and the New Racism: A Call for Sustainable Dialogue and Change. I think the format of a Story Slam in the Writing Center could be a critical way of working to deconstruct racism in the writing center through the methods the authors recommend. The story slam can foster new channels for dialogue and diversify our individualistic one-on-one tutoring programing with social and communal learning opportunities. I hope events like this one can become a WC tradition! Maybe we could do one every semester!