This post was written by Alice Berry '19, who is emo about graduating but mostly experiencing thesising terror.
Until junior year, the Bryn Mawr senior thesis might seem a little like the dental appointment you have scheduled for six months from now. You know it's happening (and you're not exactly delighted about it), but it's a problem for future you. Then, suddenly, senior year looms large and you have to go sit down in a reclining chair and let someone make your gums bleed for an hour or so…at least that's what it's felt like for me.
As a tutor at the Writing Center for the past three years, I have seen many large writing projects pass through this college. Every semester I help look through Tripod for sources, read final papers, and sit for hours in our (freezing) Canaday space talking about ideas and grammar and structure. I spend a lot of time reading other students' writing, thinking about writing, talking about writing. I love doing this; every time I encounter a new paper, I get to learn about something new. For me, there is a particular high every time a tutee and I stumble across an exciting argument. I have been known to yelp with enthusiasm when that moment happens, whether with my own writing or in a conference. Writing is always interesting and engaging for me in a way I have been unable to put into words, probably because the very thing I love is the ability to put feelings and thoughts into words. Writing doesn't just help us express ourselves; words are the way we make the enormity of the world small enough to talk about. So why don't I feel this way about my thesis?
As a sophomore tutor, my first year in this position, I was in awe of the senior tutors who were finishing their theses. I had high hopes for mine, but it was still something I couldn't imagine. I barely knew what I was majoring in, let alone what writing 50 (100? 10000?) pages in that subject would feel like. Now, about four pages into my thesis, I can tell you it feels a lot like any other piece of writing I've ever done, but with a root canal-esque fear attached to it that has marred my ability to enjoy the formation of ideas, the writing process.
I'm trying to treat my fear of thesis with an antidote of curiosity. This writing project is a new endeavor. It may be longer, more complex, more long-term and high-pressure than other assignments I've had, but it's not too different. Furthermore, when it is complete, I will have made the enormity of the thing I studied into a few dozen pages. I will have finished all my undergraduate writing projects. I will be leaving my job here at the Writing Center. Is it not time to get excited about the writing process? Frustration, teeth-pulling, lying-on-the-floor phase and all?
Thanks to Laney, Kermit the Frog has become the unofficial WC mascot. He's a visiting tutor and an icon in all senses of the word. Sadly, he is not the most prolific writer or the most quotable frog. Still, I'm going to share a quote from Kermit because I think it sums up the way writing has made me feel over the past four years.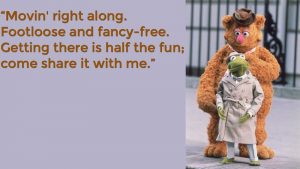 Hulton Archive/Getty Images
This thesis is coming along and the getting there, the writing process, is truly great fun. As a writer, a writing tutor, and a soon-to-be college graduate, I am trying to savor it.